Our Toddler Community (18 mo.–3 years) and Children's House (2.5–6 years) programs are designed to meet your child's special developmental needs in their crucial early years. At each level, children build independence, curiosity, and a love of learning. Find out what makes our Montessori school programs so special!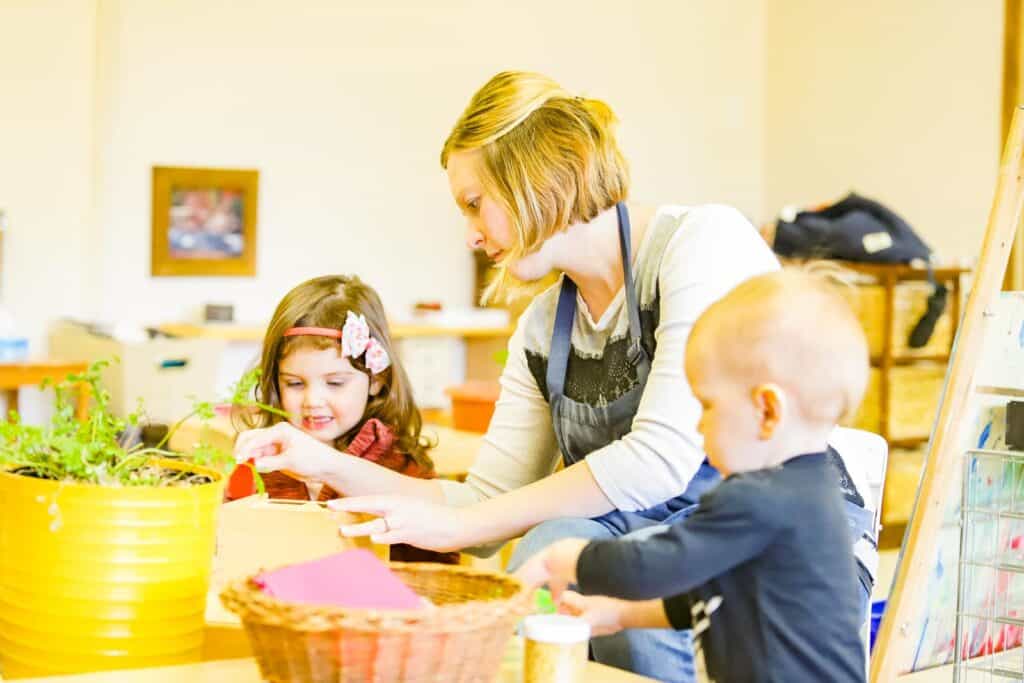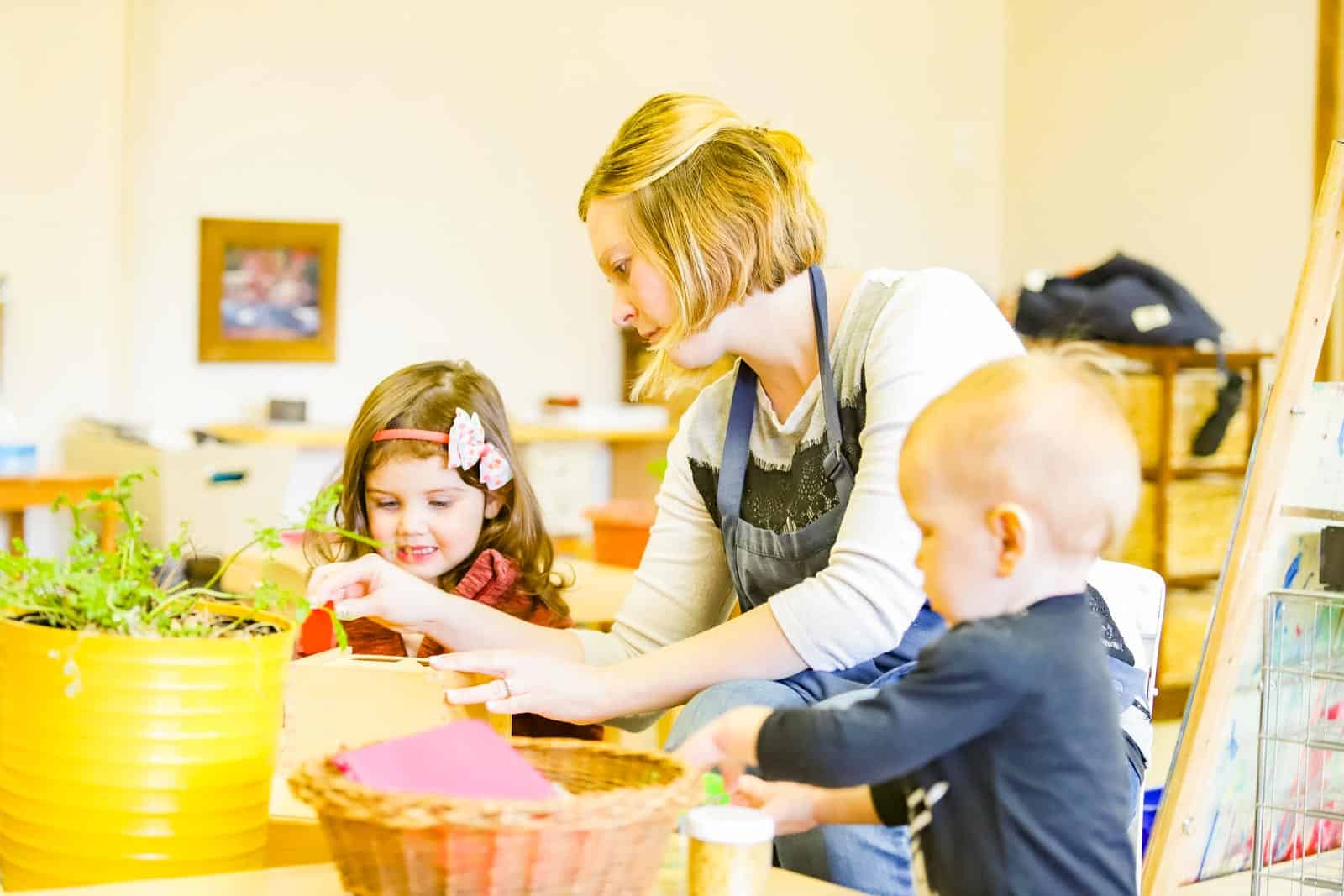 The Toddler Community (18 mo. – 3 years) connects young children with the environment they need to build the important early skills. Toddlers have a deep desire to become more independent, and to expand their social capabilities. Their grasp of language and understanding of the world is rapidly expanding during these months. We provide a nurturing, home-like space for this learning, filled with the activities of daily living that toddlers find so fascinating.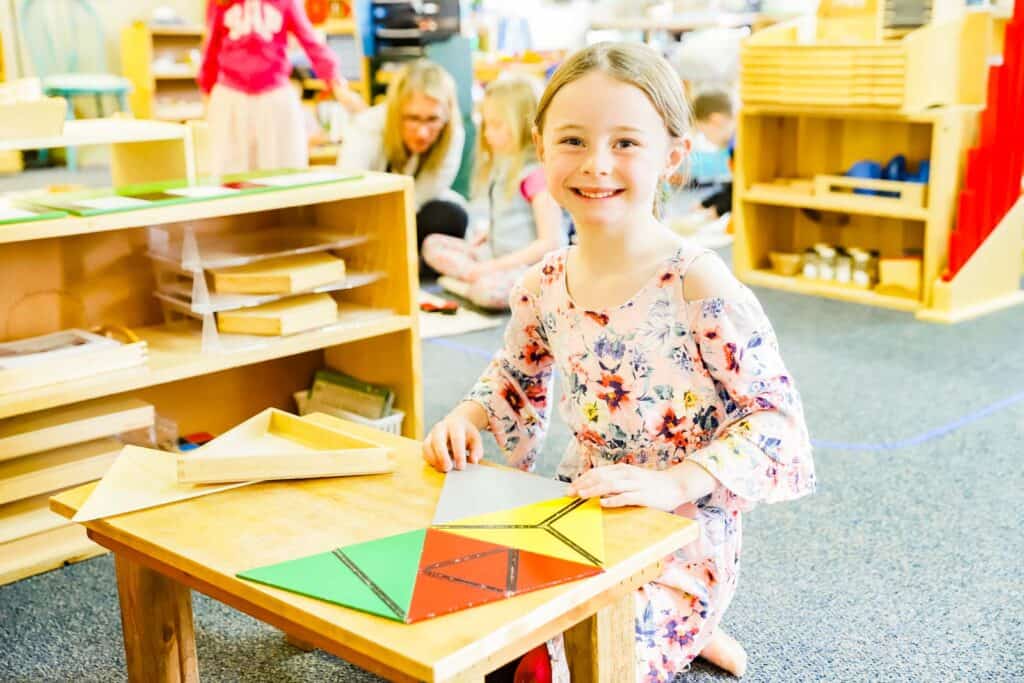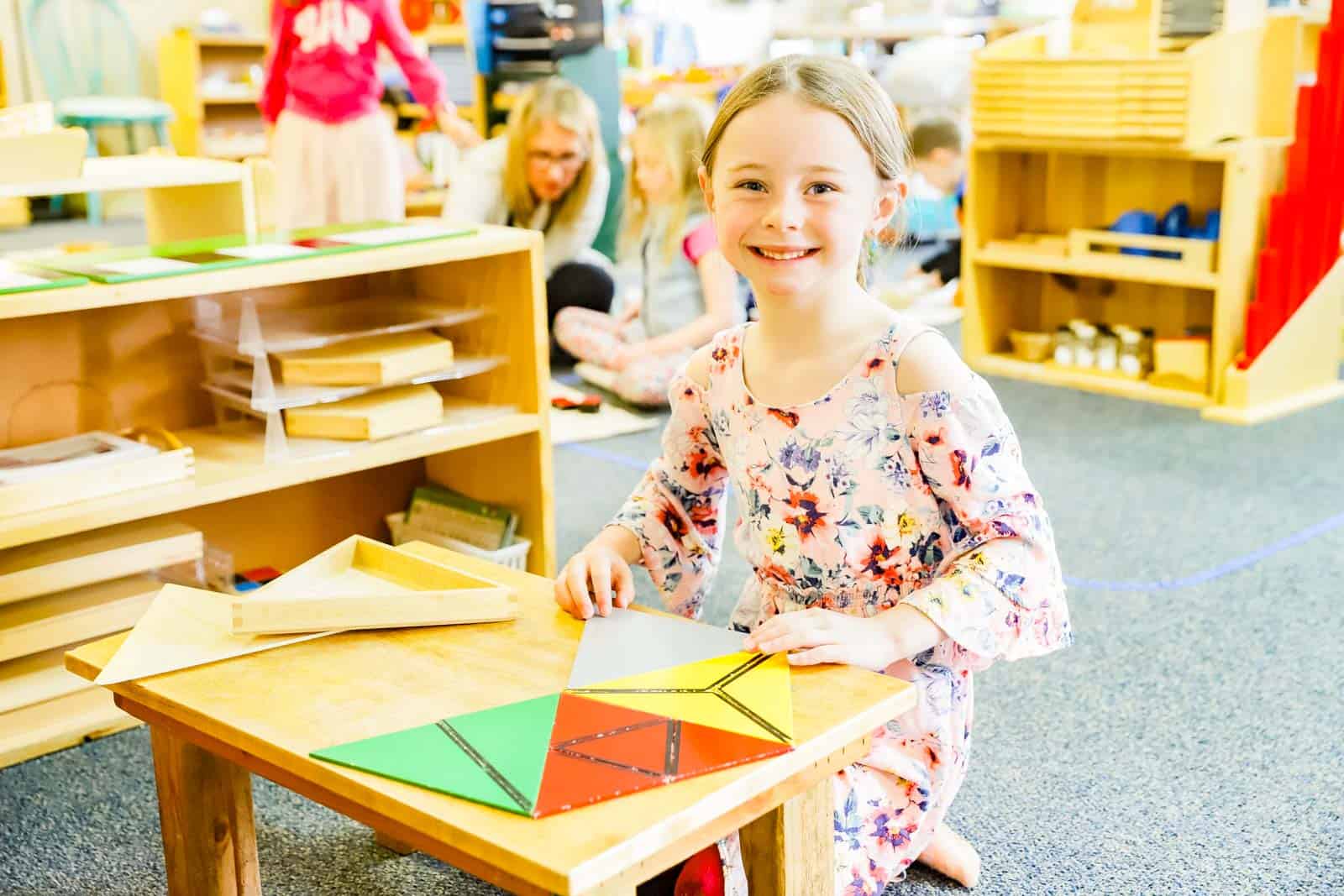 In the Children's House (2.5 – 6 years) learning is sensory, exploratory, and rooted in meaningful experiences. Our trained guides inspire children to discover life's wonders for themselves. The hands-on curriculum gives children the tools to delve wherever their curiosity takes them. Children develop into class leaders over the course of their three-year cycle, emerging from their preschool years as competent, capable, self-directed learners.
Get to know our school, and find out what a Lakewood Montessori education can give to your child. Schedule a tour for your family to see our classrooms, playground, gardens and studios for yourselves!
Read the testimonials below for the perspective of real Lakewood Montessori families.
Our family has been part of the Lakewood school community for the past six years. My daughters were so fortunate to have kind, patient, caring and knowledgeable teachers and staff throughout their toddler and preschool years. We love the multi-age classrooms that allowed the girls to learn from their older classmates and eventually develop into class leaders as kindergarteners. We continue to stay connected to the friends and families that we have met at Lakewood. I cannot thank the directors enough for putting together such an incredible team of teachers and a wonderful school community. We are truly grateful for our time at Lakewood!
Our children attended Lakewood Montessori for several years, and it was by far one of the best decisions we've made for our family. We trust their teachers completely and know that they've always got our kids' best interests at heart. We were so impressed with our kids' progress both in the Toddler Community and the Children's house, and upon kindergarten graduation our daughter was well-prepared for grade school and showing advanced skills for her age. Most appreciated of all, however, was the love and care shown to our kids and the value placed upon their independence, all of which greatly contributed to their overall confidence. We consider Lakewood dear friends and would recommend them to anyone seeking excellent Montessori education for their child.
You won't find a more wonderful school in Boise than Lakewood Montessori. We trusted Lakewood to care for and educate our son for three years. During that time, we watched him grow and develop not only educationally, but emotionally and spiritually, in the sense of recognizing his role and responsibility in caring for the world and people in it. As parents to an only child, we also appreciated the mixed age classrooms and the way the older children were encouraged to care for and teach the younger friends. Along with traditional Montessori and educational skills, caregivers here teach kindness and empathy, and encourage the children to be brave to explore the world around them. The colorful art room, magical vegetable garden and outdoor play space are where positive memories are made daily. Our child still wants to visit the school just to play. If you are looking for a place to help grow your toddler into a well-rounded, loving and kind child who is ready for the academic challenge of 1st grade, Lakewood should be the top school on your list.
As parents, our primary concern with our two boys has always been that they become good citizens. The type of people who are empathetic, care about their community, and can always be relied upon to lend a helping hand. This is why, after researching primary school options in the area, we chose to spend a combined 8 years as part of the Lakewood Montessori Family. At Lakewood, our boys were welcomed daily by teachers who knew them personally and cared about their needs. They were guided through carefully crafted activities that fostered practical life skills, instilled self confidence, taught them that they are part of a community, and laid a foundation that would launch them into future academic success. Our boys are now 12 and 7 years old, and we are exceptionally proud of the feedback we receive from their teachers regarding their focus in the classroom and their ability to listen to instruction and work independently to complete assignments thoroughly. We will never tire of hearing about how they seek to be helpers and can be depended on to treat their classmates and teachers with respect. We have no doubt that the love and support that our children received as part of the Lakewood Montessori community has played a significant role in shaping the good citizens that they have become, and will continue to be. We are forever grateful to the entire Lakewood Montessori staff, and the many friends we have made over the years, for caring about our children.